Value-Added Logistics Fulfillment
Looking for a 3PL in Metro NJ / NJ for Value-Added Logistics Fulfillment Services?
3PL Value-Added Services
GOH
Cross Docking
Distribution
E-Commerce Fulfillment
Order Fulfillment
Pick & Pack
Shipping / Receiving
Trucking / Drayage
Warehousing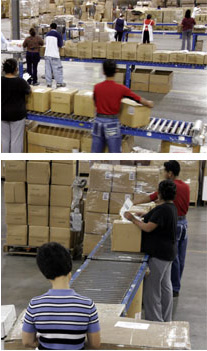 Warehousing & Distribution
Store your products until they are ready for delivery at Glenway's 427,000 square foot warehouse. Use Pick & Pack fulfillment services for direct deliveries to your clients.
Special Projects
In addition to satisfying your warehousing and distribution needs by outsourcing logistics, Glenway maintains a special projects operation which provides you with quality bagging, carton, garment hanging, insert, tagging, printing, and labeling. Pick & Pack Services as well as Packaging & Assembly are available.
Inventory Management
Glenway's Information and Technology Department electronically tracks your inventory and provides accurate Inventory Management Reports. Click here for more information about our inventory management services.
Returns Processing
Glenway's Returns Processing department protects you against potential charge-backs. Our familiarity with various routing guidelines of the toughest retailers in the business ensures cost-effective product distribution.
***We have helped our clients save hundreds of thousands of dollars!***

From Port  to Warehouse to Customer