10 Year Anniversary
Glenway Distribution Celebrates their 10th Anniversary
April 2011
For ten years Glenway Distribution has been offering warehousing and distribution services to clients on the East Coast of the USA.
In 2001 Glenway Distribution first opened it's warehouse doors in Edison New Jersey. Since then the warehouse and distribution business has grown and they designed and built a state of the art warehousing new facility in Cranbury right off of the NJ Turnpike's 8A Business Corridor.
The new warehouse facility has been growing greener and greener as "Glenway the Green Way" initiatives have been implemented. The warehouse design and the location of the new facility has made it easy to distribute product "from port to warehouse to customer".
The Operations Manager, Bob Barush said "Our customers are "the" reason why our business has not only survived but has grown during these tough economic times and we are proud to reach our 10-year mark". In appreciation of our customer and to commemorate 10 years in business Glenway Distribution is make a charitable contribution to a local green initiative. (Glenway the green way)
Glenway will also be celebrating with a party on ….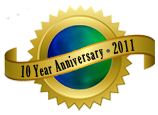 From Port  to Warehouse to Customer