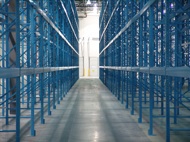 With 427,000 square feet of space, new racking configurations, RF bar coding and Warehouse Management Systems in place, Glenway can handle your pallet & bulk storage needs.
Pallet Storage
Each pallet position is a bar-coded location in our WMS system.  We know exactly where your product is at all times.  Our racks were custom-made to handle standard pallets, GOH (Garments on Hangers) as well as irregular-shaped objects up to twelve feet wide and five feet deep.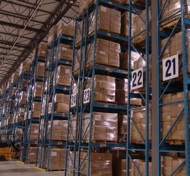 Pallet Dimensions
Standard pallet: 40x48x54 (measurement in inches)
Standard Pallet Rack System – capable of vertical storage of 6 standard sized pallets.
Custom Pallets – Our 24,000 racked pallet positions can be altered to accommodate merchandise of all sizes and shapes.
Bulk Storage
Glenway Distribution is fully equipped to handle all of your storage needs.
In addition to storing carton merchandise, Glenway has the capability of storing display racking, display fixtures as well as trade show displays.
Our facility can accommodate virtually any load size, weight or shape.
Pallet and Bulk Merchandise Storage for your company's Warehousing and Distribution needs.

From Port  to Warehouse to Customer